Angelique Kidjo at the Royal Festival Hall on the launch of Remain in Light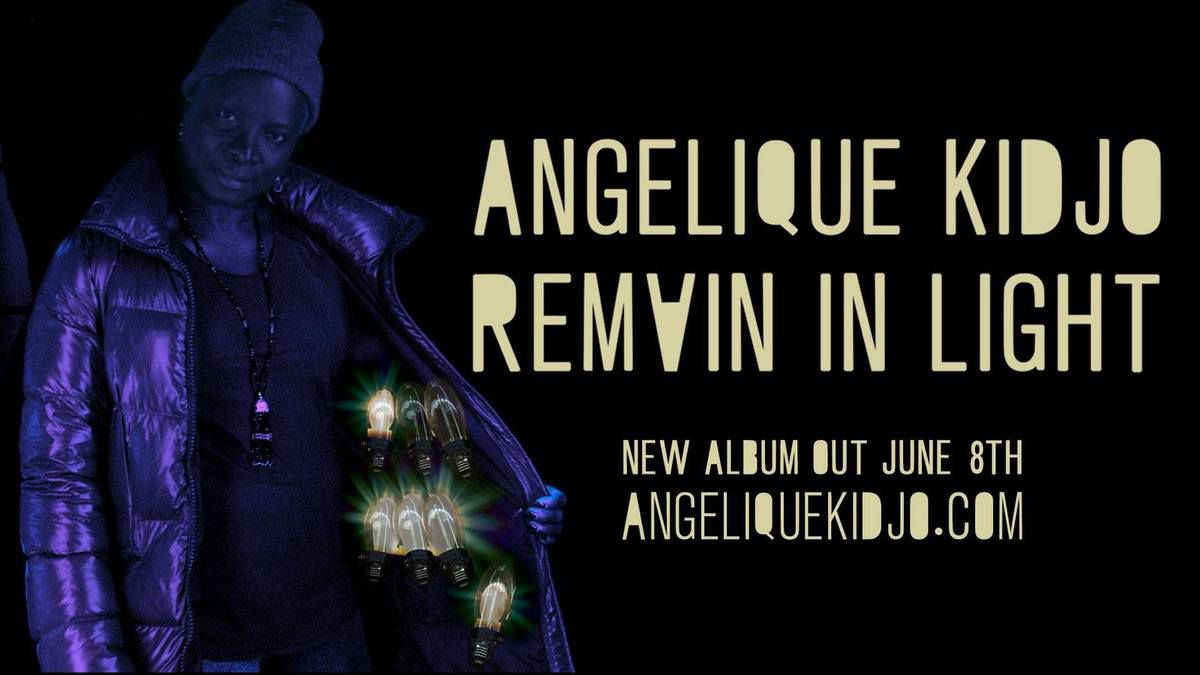 At age 23, when Angelique Kidjo left Benin for France, she was once again able to listen to all the rock bands she had discovered on the radio in the pre-communist regime. such as The Beatles and the Rolling Stones. In Paris, of all the music she loved, one record was particularly unique to her: Remain in Light by Talking Heads in 1980.
"I remember vividly every time the music came in, I said, 'There's something African to it,'"
Interestingly at the time, some of her peers at the jazz school she attended, would try to talk her out of it, not sparing condescending comments such as "This is not African. It's too sophisticated for you.' to which she would respond "OK, whatever you say.'" 'It might be rock & roll, but there's something African to it.'
Ok, maybe in the 80s, we didn't have such easy access to the web but anybody would know today that Angelique Kidjo was totally spot on.
In 1980, in his interview to the Rolling Stone, David Byrne, the lead singer and guitarist of Talking Heads explained "We wanted to develop an understanding of the African musical concept of interlocking, interdependent parts and rhythms that combine to make a coherent whole,". Drawing on the influence of Nigerian musician Fela Kuti, the group experimented with African polyrhythms, funk and electronics recording instrumental tracks as a series of looping grooves.
Almost 40 years later, Angelique Kidjo has now recorded her own interpretation of Remain in Light, which she has been performing Live at various concerts over the past year. The album, due out on the day of her performance at the Royal Festival Hall, South Bank Centre on Friday 8th June 2018 on Kravenworks Records, is a perfect counterpart to Talking Heads' record. With explosive percussion, bubbling horns, tribal harmonies and a multilingual approach. David Byrne, himself, has enthusiastically endorsed the project, skilfully directed by Jeff Bhasker.
"Music has always been my way to teach people on how connected we are and to try to find a common ground to build the bridge where we can walk together in respect of one another". And this album - Remain in Light is a pure demonstration of it and possibly the pinnacle of the artist's fusion and creativity, continually building bridges with others, musically and in her political activism. Angelique Kidjo is eternally African and yet in unison with the rest of the world. It is inspiring.
Angelique Kidjo's version of Remain in Light has a greater emphasis on rhythm and horns than the original, as well as instrumentation by members of her band, Fela Kuti drummer Tony Allen, bassist Pino Palladino, Vampire Weekend's Ezra Koenig, former Paul Simon's bassist Abe Laboriel, Sr., Blood Orange and others. Kidjo's powerful vocals, along with new vocals in African languages such as Fon respond to Byrne's lyrics. On "Crosseyed and Painless," she addresses the negative perception of Africa in the media; the mistreatment of Mother Earth on "The Great Curve," the after effects of slavery on "Listening Wind" and people's basic right to live on "Once in a Lifetime."
"The classic Talking Head Album came out right in the era of Reagan. It was a moment of anxiety and fear existed at that time, war on drugs, abuse of power, so for me it's just to reply to it because we've gone full circle and we are there again. I want music to tell us it's about time we fight, we have the power". True to herself, Angelique Kidjo always reminds us that « music is my weapon for peace ».
She would conclude her interview at Ace Theatre earlier on this month by saying "As an artist, how do I be the voice of the voiceless, how do I generate a platform for everyone to come together. I want people to come to the concert and have fun and listen, and to come out of the concert to feel energised to do things, I am passing you the light.. Be fully the human being that you are!"
And all in all, this remains Angelique Kidjo's message, especially to Africans. She wants them to write their own narrative and tell their own story, one that speaks of the beauty and the legacy of Africa, the mother of humanity.
To get your ticket now:
https://www.southbankcentre.co.uk/whats-on/126278-angelique-kidjo-sings-talking-heads-2018
Next Tour Dates
June 8 - London @ Royal Festival Hall
June 9 - Cardiff @ Wales Millenium Centre
July 11 – Arles, Fr @ Theatre Antique
July 26 – Vic-Fezensac, Fr @ Tempo Latino
July 28 – Katonah, NY @ Caramoor Center for Music and the Arts
August 6 – Highland Park, IL @ Ravinia
August 7 – Vienna, VA @ Wolf Trap
August 9 – Denver, CO @ Denver Botanic Gardens
Pour être informé des derniers articles, inscrivez vous :