AFRO beat film project of the filmmaker Ne Kunda Nlaba
Ne Kunda Nlaba, Congolese filmmaker, talks to me about his journey producing films during a coffee break in Brixton Lounge
While his passion for art has been evolving from young, it is in 2007 that Ne Kunda Nlaba chooses to focus on cinematography. According to him, filmmaking is the fusion of all the arts such as music, dance, photography, acting and others. Yet, his experience in Kinshasa, Congo, was that " creativity was there but resources were scarce". Creative Africans were confronted with the fact that although rich in ideas, investors did not support them financially. Ne Kunda observes that there is a work of valorization of the African cinema which is necessary in order for African investors to understand the value of producing films as an art and industry which could, in turn, encourage its development. According to him, the old paradigm needs to change. Since cinema has existed in Africa, the sources of funding almost came exclusively from Europe and filmmakers solely relied on foreign grants to carry out a project. This culture must change and we must apply different economic models to attract local investments..
Therefore, it is a year after his arrival in London that Ne Kunda Nlaba would have the opportunity to achieve his first short film. See below for the complete filmography of Ne Kunda Nlaba:

1. "The next" (2009), short film
2. "The Steel Pan" (2010) documentary
3. "Living without living" (2011) Documentary of 16 min
4. " Honey Bondowe" (2012), his first long-fiction film
5. "Abeti Masikini: The Battle of a woman" (2015) Documentary film
6. "Kimpa Vita: the Mother of the African revolution" (2016) documentary film

A committed artist, Ne Kunda Nlaba is often inspired by his own experiences and environment; as for example the documentary Living without living, which speaks of Congolese refugees waiting for regularization of their stay in England; or Kimpa Vita, the mother of the Kongo resistance to the western invasion and colonialism, yet occulted by history. He would say "Through this documentary, I wanted to trace the life of the mother of the African revolution" Kimpa Vita" her fight for freedom, against slavery and the massacre and deportations of the people of the Kongo, as well as the restoration of the Kongo kingdom …" Ne Kunda Nlaba is a filmmaker who wants to use art for change.

For more info on the project Afro Beat, please continue to read below:
Ne Kunda Nlaba's new project "Afro Beat" is a long-fiction film in pre-production in which he is the producer, director and screenwriter. With Afro Beat, Ne Kunda wanted to work on a project representative of the African diasporas in England. Afrobeat is a musical genre that is increasingly gaining fame and notoriety and which is in phase with a younger public. Through Afro Beat, Ne Kunda brings a message tackling racism, discrimination, the difficulties that the minority communities may face in order to find a job at the height of their qualifications or ambitions, which often lead them to pursue other professional activities to make a living. And such is the plot of the film. Mala, a law graduate is destined for a career as a lawyer but chooses dance and choreography after failed attempts to find a job in Law firms. By borrowing money to Cahsman to start his business, he will confront impossible situations orchestrated by the latter in order to compel him to sell drugs for him. His only way out: win a great competition of Afrobeat to reimburse Cashman.

Ne Kunda Nlaba invites us to take part and contribute to this project through crowdfunding. Afrobeat is a movie of positive representation of the Afro Community and which puts to contribution a young talented cast. The objective of the campaign of Crowdfunding is to raise £30,000, which represents less than a quarter of the budget of the film amounting to £100,000.

For more info, see the link below: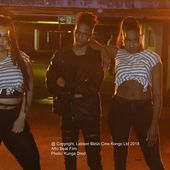 Raising money in support of our London based Afrobeat dance feature film project "AFRO BEAT" | Check out 'AFRO BEAT DANCE FEATURE FILM' on Indiegogo.
https://www.indiegogo.com/projects/afro-beat-dance-feature-film-drama
Pour être informé des derniers articles, inscrivez vous :