Stunning and mesmerising Angelique Kidjo launching Remain in Light at the Royal Festival Hall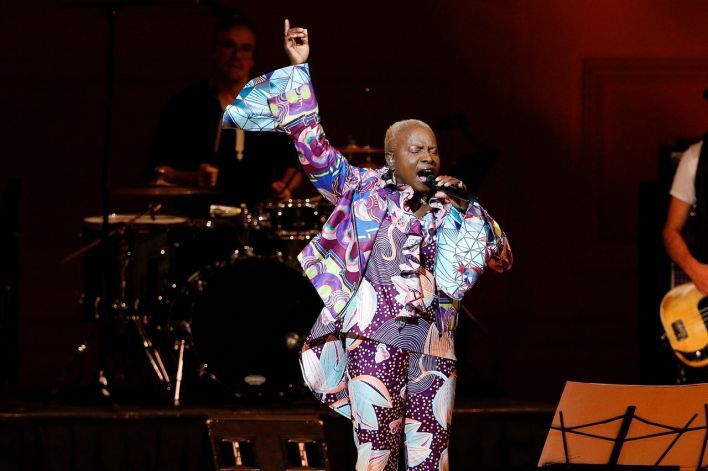 Just back from Angelique Kidjo's Live performance at the Royal Albert Hall. Angelique Kidjo is a firecracker and so are her musicians. She has such a mesmerising energy and stage presence, it's breathtaking!!!! She is an amazing and powerful singer, entertainer and she has some unique sharp dance moves ..... my friend and colleague Noel McKoy and I looked at each other and smiled when Angelique Kidjo hit the stage with some MJ moves like the King himself!!!
Angelique Kidjo's interpretation of Talking Heads- Remain in Light is a complete success. It has so much more rhythm and I love the horns of the album. I particularly loved Angelique Kidjo's performance of "The Great Curve" and her emphasis on our need to take care of Mother Earth and women, the givers of life. It was electric, got us all out of our seats dancing. In fact, Angelique Kidjo was totally in control and we would sway from "seat down" to "get off of your seats", "seat down", "get up"....She was so luminous and energetic ..so much so that she invited her audience to join her on stage. Did I go? Oh yes, I did and there we were about 40 of us on stage jamming with the musicians and the Diva herself. These moments of sheer joy are just unforgettable. It was Angelique Kidjo's aim that we all leave the concert boosted and uplifted and she totally succeeded in doing so.
Her legendary interpretation of Mama Africa for which the public became the backup vocals was top notch.
continue to read below about the after show and Angelique Kidjo's foundation Batonga
Angelique Kidjo performing Mama Africa at Grenada Festival 2016
Now Angelique Kidjo to me is a legend; my father is from Benin too and when I see her, she is nothing short of an auntie in my eyes. In my days growing up, we had many Afro Americans that stood out as talented people but we didn't have many proud Africans. Angelique Kidjo always stood tall. I totally respect the fact that most of her repertoire is in Fon and Yoruba, as well as including European languages such as French, English and Portuguese. In her video clip, African symbols and imagery are ever present and underlie whatever she does. She presents Africa as her major source of inspiration and then fusion its rhythm with other genres of music.
Angelique Kidjo is a key ambassador for Africa. An African woman showing us how to carry ourselves with dignity and love for our motherland. I desperately wanted to interview her to relay her advice to our young artists on the continent who are aspiring to an artistic career and I was really privileged to attend her aftershow and private talk about the work of her foundation.
First of all, I had the opportunity to meet her musicians backstage, amazing drummers, saxophonists and trumpetists. They got talking with Noel McKoy, who was part of the James Taylor Quartet in the 90s and is a well-known British Soul singer who toured in France and all over the world.
Continue to read below for more on the work of Angelique Kidjo's foundation Batonga
Angelique Kidjo's contribution to this world is more than music, although she often concedes that « music is my weapon for peace ». She is also a voice to the voiceless. Her Grammy nominated award Eve in 2015 is an album dedicated to the women of Africa, to their resilience and their beauty featuring 100 African women who sing in their native African languages.
Therefore, after such a powerful performance, Angelique Kidjo naturally chooses to center her talk on the work of her foundation Batonga. On stage, she urges us to do good. Backstage, she speaks of the young African girls she tirelessly supports and empowers in different parts of Africa such as Mali, Benin, Sierra Leone and more...Her foundation tag line is "transforming Africa one girl at a time"
See link below for more info. on the Batonga Foundation. Continue to read below for more info on Angelique Kidjo's work as a goodwill ambassador
Transforming Africa, one girl at a time. The Batonga Foundation equips the hardest-to-reach girls and women with the knowledge and skills they need to be agents of change in their own lives and ...
Angelique Kidjo will recall how she started her work in 2007. Despite all the opposition she faced, she was determined to succeed. Acknowledging the scale of the challenge, she would respond "if it's easy why bother".
She decided to give a scholarship to girls to access secondary education and worked with grassroot organisations to tackle the causes of early drop outs. Angelique Kidjo sees secondary education as the greatest weapon to ensure that these young girls do not fall prey to child marriage, early pregnancies nor being subjected to female genital mutiliation. She empowers these girls to be "game changers in the community, the country and globally" and she also wants men and boys to be part of changing mindsets in Africa to ensure girls are not objectified. As a goodwill ambassador for Unicef, she would only support the song project "Say no to children's marriages" if both men and women artists were involved and singing in all the local languages of Benin so that the message of the song could reach grassroot people.
Angelique Kidjo is determined to see these young women know dignity and be empowered to choose their fate so that in turn they can support men in the making to play their role in society, investing in their family, their community and raise the GDP of the country and of Africa globally.
As Angelique Kidjo reinvents 'Remain in LIght", she definitely brings us hope, shines bright and inspires us to be a light too in whatever we set out to do for Africa.
Pour être informé des derniers articles, inscrivez vous :