CHANTAL LOIAL - DIFE KAKO AT BATUKE 2018
Chantal Loial, founder and director of the dance company Dife Kako, has arrived in London today with 3 dancers who joined her this year from Strasbourg, Guadeloupe and Paris to attend Batuke Festival and Notting Hill Carnival 2018.
On Saturday 25th August, we had the pleasure to see her make a special appearance at the Music Soukous Festival with longtime friend AWILO LONGOMBA.
Chantal Loial performing with AWILO LONGOMBA at Music Soukous Festival, RichMix
For a full bio about Chantal Loial, check out the link below: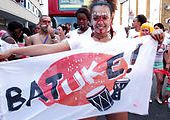 Chantal Loial and Dife Kako @ BATUKE! Festival 2018
Chantal Loial will be teaching Soukous and Afro @ BATUKE! Festival 2018 + participate in Notting Hill Carnival
https://www.batukefestival.com/chantalloial-theartist-kizomba
Chantal Loial will be teaching tomorrow, Sunday 26th August 2018, at 1.30pm at Rich Mix, running an Afro & Soukous Bootcamp. For more info and to book your pass, click link below: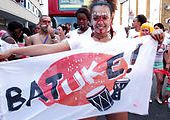 BATUKE! Afro-Luso Festival | Kizomba | London |
Kizomba UK Ltd. produces BATUKE! Festival in London, an Afro Luso immersion where participants can learn, improve or perfect dance forms such as Kizomba & Semba in London.
Pour être informé des derniers articles, inscrivez vous :