HEIR BORN LEGACY - Liberated Spirits Expressing through Music!!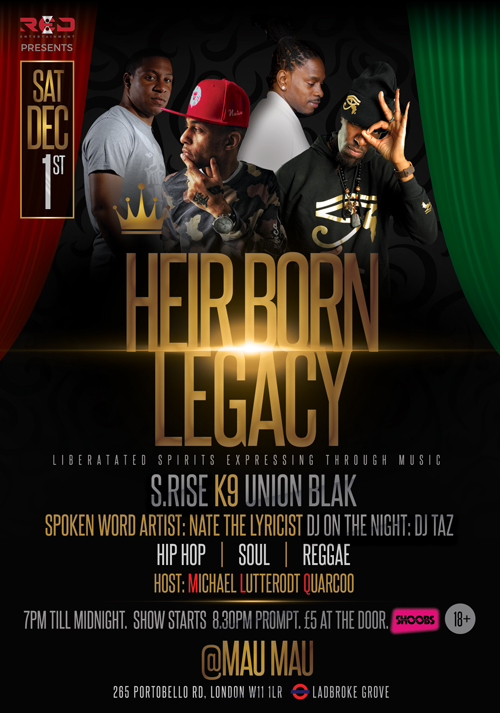 What is Heir Born Legacy?
Heir Born Legacy is a collection of independent musicians and a music manager that have taken their careers into their own hands. The title 'Heir Born Legacy' derives from their emphatic belief that successful, fulfilling careers in music is their legacy and their destinies so THEY are responsible for making it happen.
The concept came about from the harsh realisation that having and making great music is NOT enough. The social media age, in which we now live, dictate that artists must have a big fan and followers base to succeed and in order to do so ARTISTS MUST have the "Make It Happen" Factor. This new innovative concept would proactively support their vision. It would also contribute to develop both the artists' fan base and notoriety required to make a healthy living from music and tour worldwide.
The founding members are:
K9 - Rapper/Producer who has been actively involved in music creation for over 10 years, producing for various artists while slipping in his own projects, now getting ready to release his highly anticipated second entitled 'Blak n Forth'. K9 is described by industry experts as authentic, head-nod, lyrically informative, conscious, thought-provoking, musically captivating hip hop with a prominent Reggae influence.

S.Rise

is a singer and songwriter from Guadeloupe. His stage name is a reflection of his conscious lyricism and lifestyle.

S.Rise

writ

es from his life experiences and blessings. He wrote one of his most popular song "Most High" on the dreamland riddim alongside legendary artists including Capleton, Sizzla and Frankie Paul. In December 2017,

S.RISE

Brought some firing performance at the biggest reggae festival in Gambia ,"GAMBI FEST" where he shared the stage with artists like "I wayne " and "Gage ".
In 2018, S.RISE opened up for Kalash sold out show in London followed by an amazing show in Guadeloupe where he shared the stage with Etana. Consequently, on 8th December 2018, he will be returning to Guadeloupe to support some of the greatest bashment artists such as MOVADO/KALASH/ASA BANTON at LIV'my MUSIC event.
Union Blak - Union Blak are an international Hip Hop group residing in the UK. Sir Williams, the producer, is from Birmingham, England. Kimba the emcee is from Trenton, NJ & Kentucky in the USA. They met in 2008 via myspace & quickly developed a strong chemistry. Classic hip hop was the result. To date they have two albums Street English & Union Blak Friday. Both were well received & supported by Chuck D, DJ Jazzy Jeff, DJ Premier, Pos Da Nous of De La Soul, & Lauren Laverne of BBC Radio 6.
RED is an ambitious young woman who has a global vision, passion for the arts and uncompromising work ethic. In 2015, she launched her company, RED ENTERTAINMENT. Starting her own operation was a great way to break into music management and helped her in gaining some real experience. She took over the management of S.RISE in 2016 AND K9 in 2018. RED's management expertise brought S.RISE and K9 international opportunities, greater independence and performances at One Love Festival – the #1 UK festival in celebration of all things reggae and dub and Gambi Fest - The biggest reggae festival in The Gambia.
So if you would like to find out more, make sure to attend their 1st event @Mau Mau in London on

Saturday 1st December 2018

. Tickets are £5 on the door. Stay connected and follow them on their social media pages @heirbornlegacy for more events.
Pour être informé des derniers articles, inscrivez vous :