Black History Activity Books - A huge success!!
Home | Black History Activity Books
The Black History Activity Books are designed to educate children on role models and figures whilst stimulating their minds with puzzles and activities. Have fun and learn whilst getting to know ...
The Black History Activity Books have been designed to inspire and educate young people on some of the greatest figures in history. The books use a series of puzzles and activities to stimulate the minds of the reader whilst aiding them to learn in a fun and exciting way.
"We believe that it is our responsibility to inspire and educate our children about their history. There are many positive black role-models that are truly inspirational. No longer will they be kept away from us and hidden in the shadows and there contributions to be ignored! We highlight these role-models, giving young people a greater sense of self thus building confidence. We believe that educating young people about our achievements, contributions to society and this civilisation is of paramount importance".
Their Launch in 2018 was a major success!! Click on youtube link below for their latest video:
The preparation for their second Black History Month event in 2019 is already well under way and 900 tickets have already been booked in less than a week!! Make sure to register online as soon as possible!!
Read on to book your ticket today!!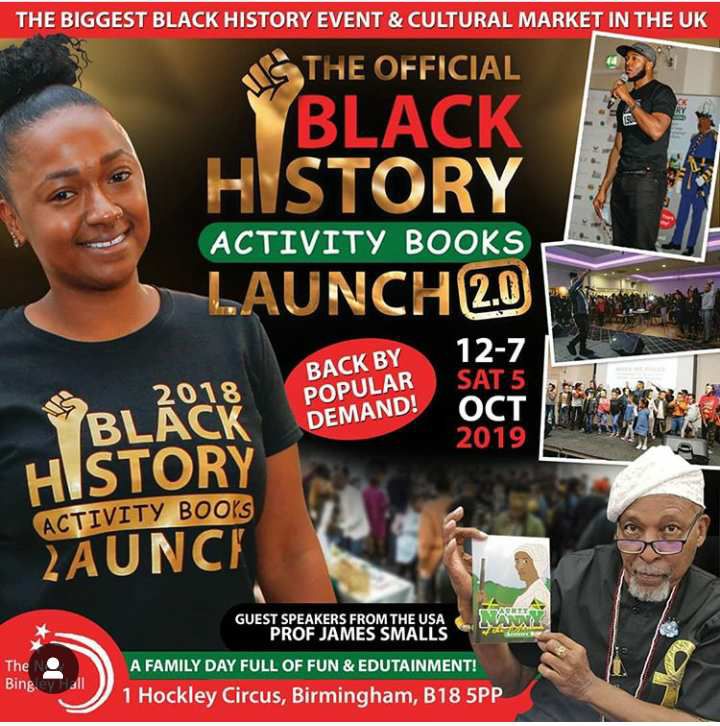 Black History Activity Book Launch 2.0
Due to the huge success of the first Black History Activity Book Launch on Sunday the 7th October 2018, we are back by popular demand! We entertained over 2000 visitors and over 100 stallholders. As
https://www.eventbrite.com/e/black-history-activity-book-launch-20-tickets-55127629223
Pour être informé des derniers articles, inscrivez vous :