Ba Khem Arts - a fusion of ancient traditions, contemporary society and future visioning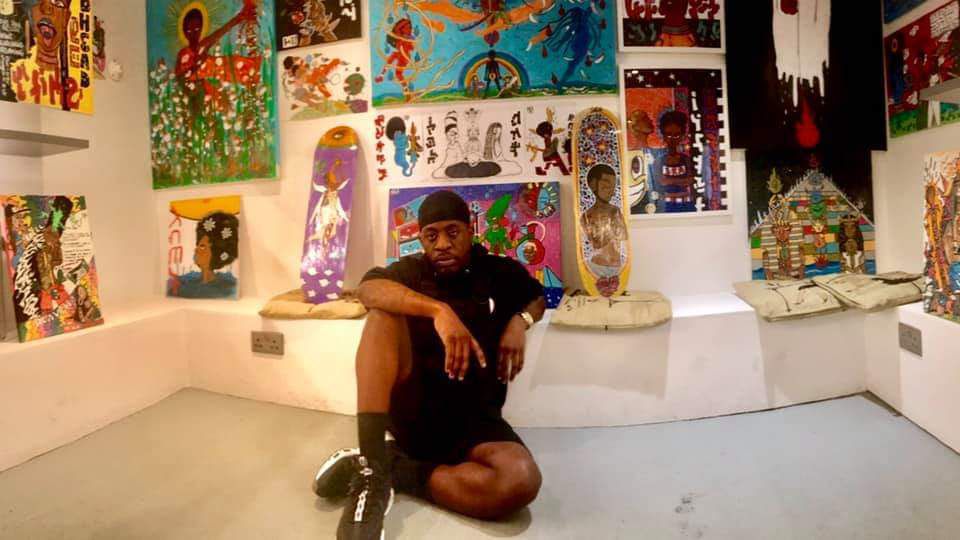 Visiting Gus of Ba Khem Arts this week in Shoreditch was a real highpoint for me. This talented young Brother really had me thinking. I arrived with no expectations really, just open I suppose to see what the Brother has going on but I left lifted and thinking how fortunate I was to catch this on the last day of his exhibition.
The style of work reminded me of the kind of art you'd see on the front of some iconic album covers from back in the day. A whole bunch of references came flooding back; all brought to life by the explanation from the artist, who fluently talked though each and every piece with a passion.
You could miss this work with a glance but pause for a moment and join the dots up and you'll see there's a lot going on here.
As Gus goes about the business of applying thought to canvas, I got an overwhelming sense that he's channeling. The lived experiences of personal relationships finds a way to be heard through references to ancient traditions, contemporary society and future visioning. Every piece is conceptual with a suggestion of cultural download.
I was left thinking... Wow! what a wealth of potential and creativity in our community. We really must find ways for this to grow and prosper.
Review of Ba Khem Arts by Paul Reid
See a selection of Ba Khem Arts work below and his website!!
Pour être informé des derniers articles, inscrivez vous :