Conversations in COLOURS by emerging Black Visual Artists, Brixton, 11 to 13 October 2019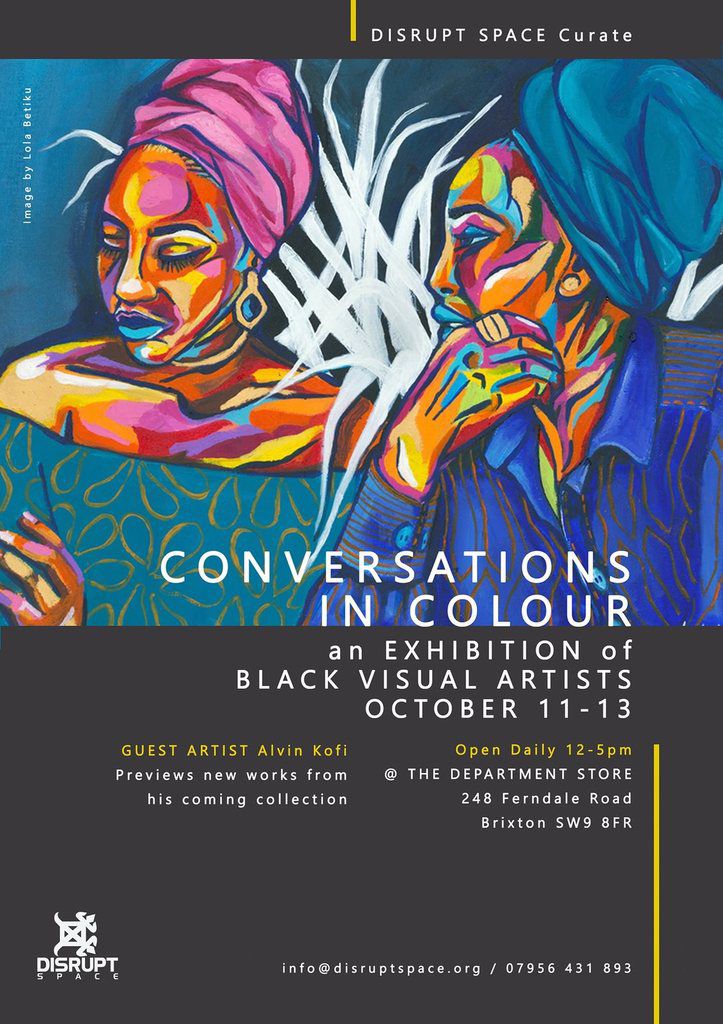 Disrupt Space is a visual arts agency established to nurture and represent emerging Black visual artists. The company will recruit artists to accelerate their progression and build a platform for the future.
The new venture begins with a display of works of art called CONVERSATIONS IN COLOUR that can be seen at The Department Store in Brixton (from 11th - 13th of October, 12 - 5pm). Here, artists Lola Betiku, Marlon Stewart, Sharon Adebisi and Gus Brooks-Simpson take centre stage to unveil their work; some of which has been prepared just for the show.
To mark the occasion, Disrupt Space has invited one of our leading Black visual artist, Alvin Kofi of Kofi Arts to contribute to the programme. On Sunday 13th October (2 - 4pm) Kofi will present and preview work from his forthcoming coming collection entitled 'Figures in a Landscape'.
Contact details and social below:
#BlackArtDisrupts
e. preid@disruptspace.org
t. @disruptspace
f. disruptspacehq
w. disruptspace.org

Eventbrite - Disrupt Space presents Conversations in Colour - Thursday, 10 October 2019 | Sunday, 13 October 2019 at The Department Store. Find event and ticket information.
https://www.eventbrite.co.uk/e/conversations-in-colour-tickets-74478327683
Pour être informé des derniers articles, inscrivez vous :