The origins of the Kora
Tiramagan Traoré was a general of the great Soundjata Keïta, founder of the Mandinka empire, also referred to as the Mali Empire at the end of the twelfth century through to the sixteenth century.

The story goes that Tiramagan Traoré went to the heights of Kabul (present-day Guinea-Bissau which was formerly a territory of Gambia) with his griot Djelimadou Woulen Diabate and two hunters. During this expedition, Tiramagan spotted a Jinn, in front of a cave, which is a spirit in a form of a woman, living in the mountains. When she saw the expedition, the Jinn became frightened and took refuge in the cave.

Back home, Tiramagan told Waligelenjan, a descendant of Kamisoko, about his adventure. All decided to leave the next morning with a fishing net in order to catch this famous Jinn. When they arrived on the scene, the spirit woman was sitting in front of the cave. Immediately, the hunters launched the net on her to capture her. She, once more, took refuge in the cave and came out with a Kora. Tiramagan married this very beautiful woman and gave the Kora to his griot since he was a nobleman and wasn't permitted to play it. Djelimadou Woulen then exclaimed: "Nobleman, that's an instrument of ours, which belongs to the Mandika people".

It is from this story that the Kora, a stringed instrument of twenty-two strings with crystal sounds, draws its feminine gender. The first person to play it was this griot. When he died, in his honour, a string was removed. Since this time, the Kora has twenty-one leather strings. From the time of the first griot Djélimadou Woulen Diabaté, the Kora has been transmitted from Father to Son and has known more than 70 generations of griots.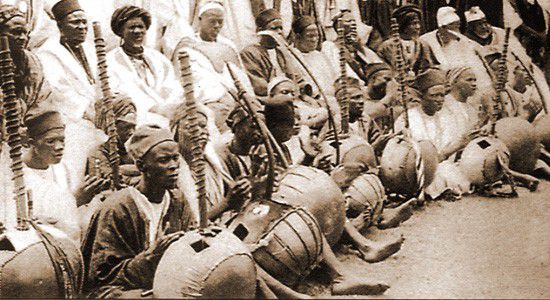 Here is below an interview that took place at the Jazz Cafe couple of years back with a griot from the Cissokho family "Diabel Cissokho" by Caro Sika. Enjoy :)
Pour être informé des derniers articles, inscrivez vous :