30 Septembre 2019 , Rédigé par www.afrocultureblog.com Publié dans #event, #ujamaa, #2019, #blackhistory, #ENG, #uk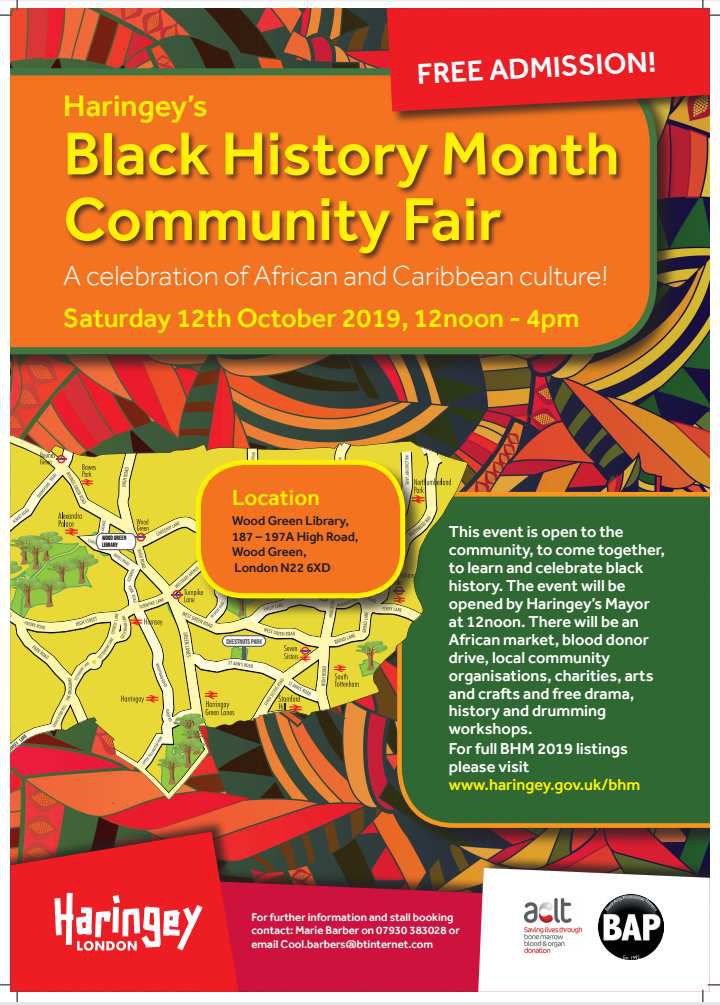 This is a FREE FAMILY FRIENDLY COMMUNITY EVENT to celebrate Black History Month that will take place on Saturday 12th October 2019 in Wood Green Library from 12 to 4pm.
The event will be opened by Haringey's Mayor Cllr Sheila Peacock at 12noon. There will be an African Cultural and Artistic Market with vendors selling a range of items from original fashion pieces, accessories, jewellery, arts and crafts, books and natural products. There will also be drumming and drama workshops by All Eyes on Egypt and BAP face painting by NaaLa Lartey, an ACLT blood donor registration drive, charities and local community organisations holding stalls such as Haringey IAPT, Obaseki Solicitors, Manhood Academy whilst Reggae Britannia will be providing food.
Guest Speakers will be Patrick Vernon OBE and Danny Thompson who will both present on Black History Month.
This event is open to all. Let's come together to learn and celebrate Black History as well as networking with and discovering artists, artisans, charities and grassroot community organisations all working for the good of our communities.
For more info, see website below:
Would you like to provide any further comments about your visit today? Tell us about your experience of using the website below: What were you looking for / hoping to do on the website today?
https://www.haringey.gov.uk/libraries-sport-and-leisure/culture-and-entertainment/whats-haringey/black-history-month
Newsletter
Abonnez-vous pour être averti des nouveaux articles publiés.