Christine Natasha Smith (see pic below) is a mother, artist, teacher and what she likes to call 'creator of magic'. The Afrolights are her current project, a dynamic duo (her children) who are on a mission to bring positivity and light to a world where darkness and doubt seeps into corners waiting to infect our youth - but with the right teaching - which the Afrolights are armed with, plus their innate powers, children can find the positivity from within and shine their own lights to banish the darkness.
Inspired by the queen - Whitney Houston - Christine Natasha Smith believes that the greatest love of all is to love yourself. "It's hard to give love to others fully, wholeheartedly, if you don't have that for yourself first. Some think that taking care of others is paramount and that can become an excuse for not taking care of ourselves. But if we want to make a difference to others, fill their cups, then we can't be pouring from an empty jug." says Christine.
In her view, a variety of things have led her to the Afrolights, such as her own self care journey; her work as an educator both in a mainstream school, privately and in non-profit organisations ; a passionate yearning to impart positivity to children, and teach them lifelong lessons that will help them to be resilient in the future and finally her journey as a mother and wanting the same opportunities for all children to lead happy, healthy and harmonious lives.
Music, singing has been a part of Christine's life since childhood and she views it as an enjoyable way of expressing herself. The song of the Afrolights was another extension of that as well as a fun and vibrant way of interacting with the children, teaching them her message, helping them to learn these affirmations, especially in our current times. Positivity is a must!
"Confidence and self esteem are cornerstones for all children. Pillars of positivity. For children's growth, they need to have confidence in themselves to be able to look inside themselves and love what they see - all aspects of themselves too. With confidence and self esteem, the world becomes their oyster, they can succeed in whatever area they wish to pursue, they can not only dream big dreams but achieve them too." explains Christine.
And obviously, for an author teaching positivity, it is not surprising that the sky is her limit. She literally, in her own words, would like to take this book to the moon! Her current aspiration are creating/producing:
- An abc of positivity book
- A series of tales based on the main protagonists spreading their message of positivity, encouraging children that think positively is a SUPER POWER!
- A clothing and apparels range.
- The song, a tv show, the moon! 😇🥳
"To affirm something is to declare it openly and then uphold the words stated. They are made firm. The more you say things- the more you believe them. Whenever we want something to happen, we have to state it and then work toward it. Things don't happen in secret. It's all about intention." concludes Christine Natasha Smith
Look out for the abc book and associated merchandise coming soon.
For more info, follow The Afrolights on Instagram
Lindon Rankin, Founder of Melanin Health & Wellness, recognised during the first lockdown that there seemed to be a lack of support for the local BME community.
Melanin Health & Wellness, a Southwark based community group supporting local ethnic diverse individuals and groups, started out of this, delivering shopping and medical prescriptions for the elderly, and then went on to provide culturally appropriate cooked meals for children receiving free school meals within the local BME communities, during the school holidays. This was the start of the Melanin Lunch Box project.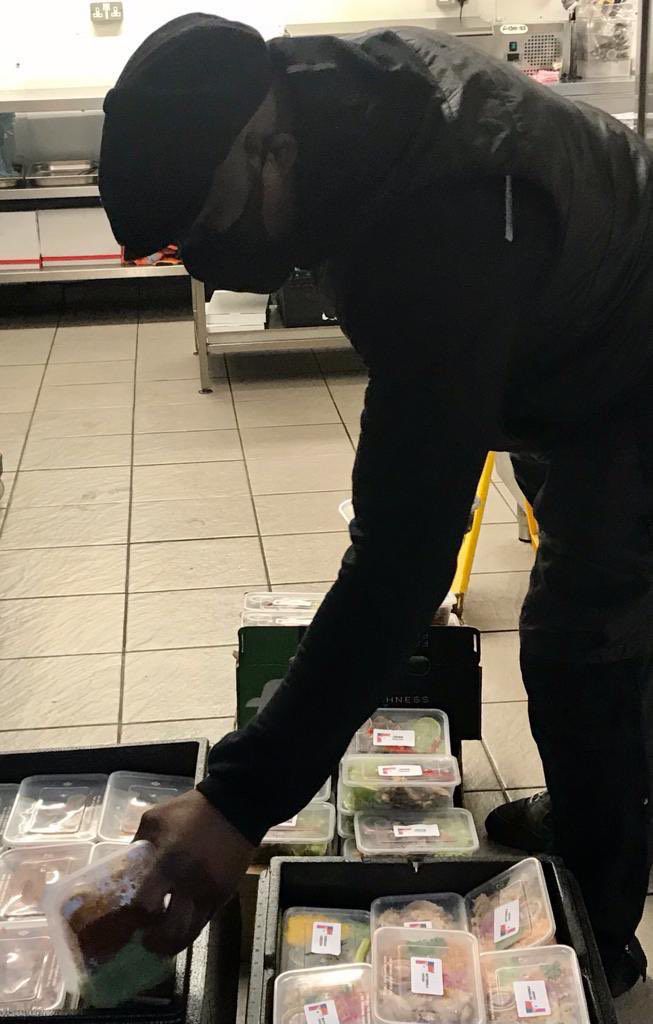 Melanin Lunchbox Volunteer sorting out boxes that will be handed out to families receiving free school meals
Lindon (see pic below) has also been running (free) Health and Wellbeing sessions, fitness classes and most recently organised community events in collaboration with other community groups, and mental health and wellness programmes, providing opportunities to local people in order to help them to engage and improve both themselves, their lives and their community at large.
Lindon's aspiration is to empower people, to come together, celebrate diversity, and for all of us to participate in building a more robust community.
"I always seek the opportunity to work with others and I have learnt by pulling together, we achieve together", says Lindon.
He is pleased to highlight the support received from Berkeley Foundation in partnership with some of their present projects.