angeliquekidjo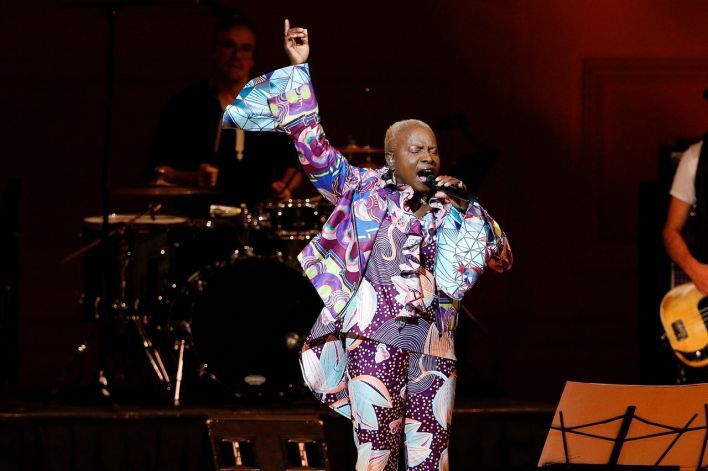 Just back from Angelique Kidjo's Live performance at the Royal Albert Hall. Angelique Kidjo is a firecracker and so are her musicians. She has such a mesmerising energy and stage presence, it's breathtaking!!!! She is an amazing and powerful singer, entertainer and she has some unique sharp dance moves ..... my friend and colleague Noel McKoy and I looked at each other and smiled when Angelique Kidjo hit the stage with some MJ moves like the King himself!!!
Angelique Kidjo's interpretation of Talking Heads- Remain in Light is a complete success. It has so much more rhythm and I love the horns of the album. I particularly loved Angelique Kidjo's performance of "The Great Curve" and her emphasis on our need to take care of Mother Earth and women, the givers of life. It was electric, got us all out of our seats dancing. In fact, Angelique Kidjo was totally in control and we would sway from "seat down" to "get off of your seats", "seat down", "get up"....She was so luminous and energetic ..so much so that she invited her audience to join her on stage. Did I go? Oh yes, I did and there we were about 40 of us on stage jamming with the musicians and the Diva herself. These moments of sheer joy are just unforgettable. It was Angelique Kidjo's aim that we all leave the concert boosted and uplifted and she totally succeeded in doing so.
Her legendary interpretation of Mama Africa for which the public became the backup vocals was top notch.
continue to read below about the after show and Angelique Kidjo's foundation Batonga
Angelique Kidjo performing Mama Africa at Grenada Festival 2016
Now Angelique Kidjo to me is a legend; my father is from Benin too and when I see her, she is nothing short of an auntie in my eyes. In my days growing up, we had many Afro Americans that stood out as talented people but we didn't have many proud Africans. Angelique Kidjo always stood tall. I totally respect the fact that most of her repertoire is in Fon and Yoruba, as well as including European languages such as French, English and Portuguese. In her video clip, African symbols and imagery are ever present and underlie whatever she does. She presents Africa as her major source of inspiration and then fusion its rhythm with other genres of music.
Angelique Kidjo is a key ambassador for Africa. An African woman showing us how to carry ourselves with dignity and love for our motherland. I desperately wanted to interview her to relay her advice to our young artists on the continent who are aspiring to an artistic career and I was really privileged to attend her aftershow and private talk about the work of her foundation.
First of all, I had the opportunity to meet her musicians backstage, amazing drummers, saxophonists and trumpetists. They got talking with Noel McKoy, who was part of the James Taylor Quartet in the 90s and is a well-known British Soul singer who toured in France and all over the world.
Continue to read below for more on the work of Angelique Kidjo's foundation Batonga
Angelique Kidjo's contribution to this world is more than music, although she often concedes that « music is my weapon for peace ». She is also a voice to the voiceless. Her Grammy nominated award Eve in 2015 is an album dedicated to the women of Africa, to their resilience and their beauty featuring 100 African women who sing in their native African languages.
Therefore, after such a powerful performance, Angelique Kidjo naturally chooses to center her talk on the work of her foundation Batonga. On stage, she urges us to do good. Backstage, she speaks of the young African girls she tirelessly supports and empowers in different parts of Africa such as Mali, Benin, Sierra Leone and more...Her foundation tag line is "transforming Africa one girl at a time"
See link below for more info. on the Batonga Foundation. Continue to read below for more info on Angelique Kidjo's work as a goodwill ambassador
Transforming Africa, one girl at a time. The Batonga Foundation equips the hardest-to-reach girls and women with the knowledge and skills they need to be agents of change in their own lives and ...
Angelique Kidjo will recall how she started her work in 2007. Despite all the opposition she faced, she was determined to succeed. Acknowledging the scale of the challenge, she would respond "if it's easy why bother".
She decided to give a scholarship to girls to access secondary education and worked with grassroot organisations to tackle the causes of early drop outs. Angelique Kidjo sees secondary education as the greatest weapon to ensure that these young girls do not fall prey to child marriage, early pregnancies nor being subjected to female genital mutiliation. She empowers these girls to be "game changers in the community, the country and globally" and she also wants men and boys to be part of changing mindsets in Africa to ensure girls are not objectified. As a goodwill ambassador for Unicef, she would only support the song project "Say no to children's marriages" if both men and women artists were involved and singing in all the local languages of Benin so that the message of the song could reach grassroot people.
Angelique Kidjo is determined to see these young women know dignity and be empowered to choose their fate so that in turn they can support men in the making to play their role in society, investing in their family, their community and raise the GDP of the country and of Africa globally.
As Angelique Kidjo reinvents 'Remain in LIght", she definitely brings us hope, shines bright and inspires us to be a light too in whatever we set out to do for Africa.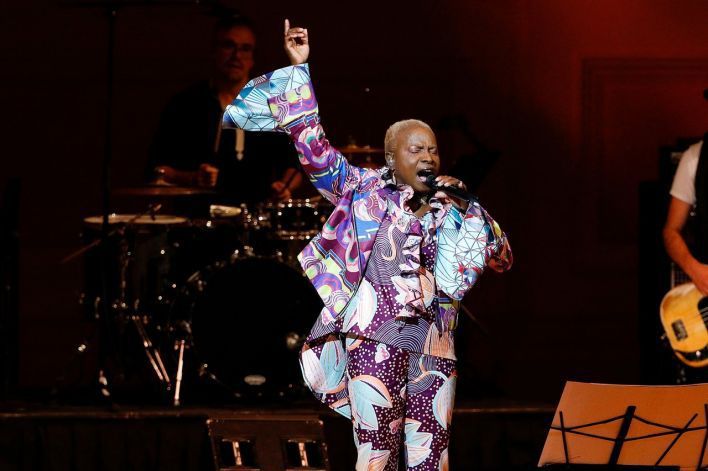 Tout juste de retour de la performance d'Angelique Kidjo's au Royal Albert Hall à Southbank, Londres. Angelique Kidjo est en feu et bien évidemment tous ses musiciens. Elle a une énergie incroyable et une telle présence sur scène, c'est à en couper le souffle ! ! ! !
Son interprétation de Talking Heads- Remain in Light est un succès total. Rythmé, associant le rock, l'Afrobeat, le jazz, j'ai particulièrement aimé la performance d'Angelique Kidjo "The Great Curve" et son accent sur la nécessité de prendre soin de la Terre mère et des femmes, les gardiennes de la vie. Le concert était électrique, Angélique Kidjo était totalement au contrôle, énérgique et lumineuse, et nous invitait à nous lever, nous asseoir, nous lever, nous asseoir jusqu'à ce qu'elle invite son public à assaillir la scène et la rejoindre sur les sons des percussions. Y-suis je allée ? Bien évidemment, environ 40 d'entre nous ont rejoint les musiciens et la diva elle-même sur scène. Des moments de joie pure tout juste inoubliables. C'était l'objectif d'Angélique Kidjo que nous quittions tous le concert motivés, inspirés et elle réussit, sans équivoque, à le faire.

Son interprétation légendaire de Mama Africa pour laquelle le public a rejoint les chœurs était aussi explosive que les toutes les fois précédentes.

Continuer à lire ci-dessous pour plus d'infos sur l'aftershow et la fondation d' Angelique Kidjo Batonga
Angélique Kidjo, pour moi, c'est une légende ; mon père est également originaire du Bénin et quand je la vois, elle n'est rien de moins qu'une tante à mes yeux. En grandissant en région parisienne dans les années 90, nous avions beaucoup d'idoles Afro Américaines mais nous n'avions pas beaucoup d'artistes africains fiers de leurs origines. Angélique Kidjo, elle, se distinguait. J'admirais le fait que la plupart de son répertoire était en Fon et Yoruba, ainsi qu'en français, anglais et portugais. Dans ses clips vidéo, les symboles et l'imagerie de l'Afrique étaient toujours présents dans tout ce qu'elle faisait. Angélique Kidjo présente l'Afrique comme son inspiration majeure et à l'origine de différentes cultures et genre de musique.

Angélique Kidjo est une ambassadrice de l'Afrique. Une femme africaine qui modèle comment nous comporter avec dignité en tant qu'africains et afro-descendants. Je tenais donc vraiment à la rencontrer et à l'interviewer afin de relayer ses conseils à nos jeunes artistes sur le continent qui aspirent à une carrière artistique. J'ai donc été vraiment privilégié d'avoir un pass pour son aftershow et d'être en mesure de l'écouter parler du travail de sa fondation Batonga après avoir rencontré ses musiciens dans les coulisses, des musiciens de djembe et percussions foudroyants, saxophonistes, trombonistes, trompettistes.

Continuer à lire ci-dessous pour en savoir plus sur le travail de la fondation d'Angélique Kidjo Batonga
Cependant, Angélique Kidjo apporte bien plus au monde que sa musique, bien qu'elle concède que " la musique est mon arme pour la paix ". Elle est aussi la voix de ceux qui n'en ont pas. En 2015, elle obtient un Grammy Awards pour son album Eve, un album dédié aux femmes de l'Afrique, à leur résilience et à leur beauté mettant en scène 100 femmes africaines qui chante en langues africaines.

Par conséquent, après une telle performance, Angélique Kidjo choisit naturellement d'exposer, dans le cadre intime de l'aftershow regroupant une trentaine de personnes, sur sa fondation Batonga. Elle nous incite à faire le bien sur scène et semer la vie. Dans les coulisses, elle parlera des jeunes filles africaines qu'elle soutient sans relâche dans divers pays de l'Afrique comme le Mali, le Bénin, la Sierra Leone et plus...Le slogan de la fondation est d'ailleurs "transformons l'Afrique une fille à la fois"
voir le lien ci-dessous pour plus d'infos sur la Fondation Batonga. Continuer à lire ci-dessous pour plus d'information sur les travaux d'Angélique Kidjo comme ambassadrice de bonne volonté de l'UNICEF
Transforming Africa, one girl at a time. The Batonga Foundation equips the hardest-to-reach girls and women with the knowledge and skills they need to be agents of change in their own lives and ...
Angélique Kidjo évoquera les premiers jours de sa fondation en 2007, quant en dépit de toute l'opposition à laquelle elle fait face, elle est déterminée à changer la donne des jeunes filles africaines.
Elle commencera par munir les jeunes filles d'une bourse, afin qu'elles accèdent à l'enseignement secondaire et Angélique Kidjo travaillera également avec des ONG sur le terrain afin d'identifier et pallier aux causes de l'abandon scolaire précoce. Angelique Kidjo voit l'enseignement secondaire comme la meilleure arme pour s'assurer que ces jeunes filles ne seront pas victimes d'un mariage d'enfants, de grossesses précoces ou l'objet de mutiliation génitale. Elle permet à ces jeunes filles d'être un second souffle dans leur communauté, leur pays et dans le monde. Les hommes et les garçons ont aussi leur part à jouer pour changer la vision de la femme en Afrique et pour s'assurer qu'elle ne soit pas objectifiée. C'est pourquoi en tant qu'ambassadrice de bonne volonté pour l'Unicef, Angélique Kidjo acceptera de soutenir le projet "Non au mariage des enfants" en 2017, tant qu' hommes et femmes artistes seront impliqués et chanteront dans toutes les langues locales du Bénin afin que le message de la chanson puisse atteindre le peuple et non uniquement les élites.
.
Angelique Kidjo est déterminée à habiliter ces jeunes femmes à choisir leur destin afin qu'elles puissent réinvestir dans leur famille, la communauté et augmenter le PIB du pays et de l'Afrique à l'échelle mondiale.

Alors qu'Angelique Kidjo réinvente 'Remain in Light", elle nous apporte de l'espoir et nous inspire à notre tour, à briller autour de nous et surtout pour l'Afrique.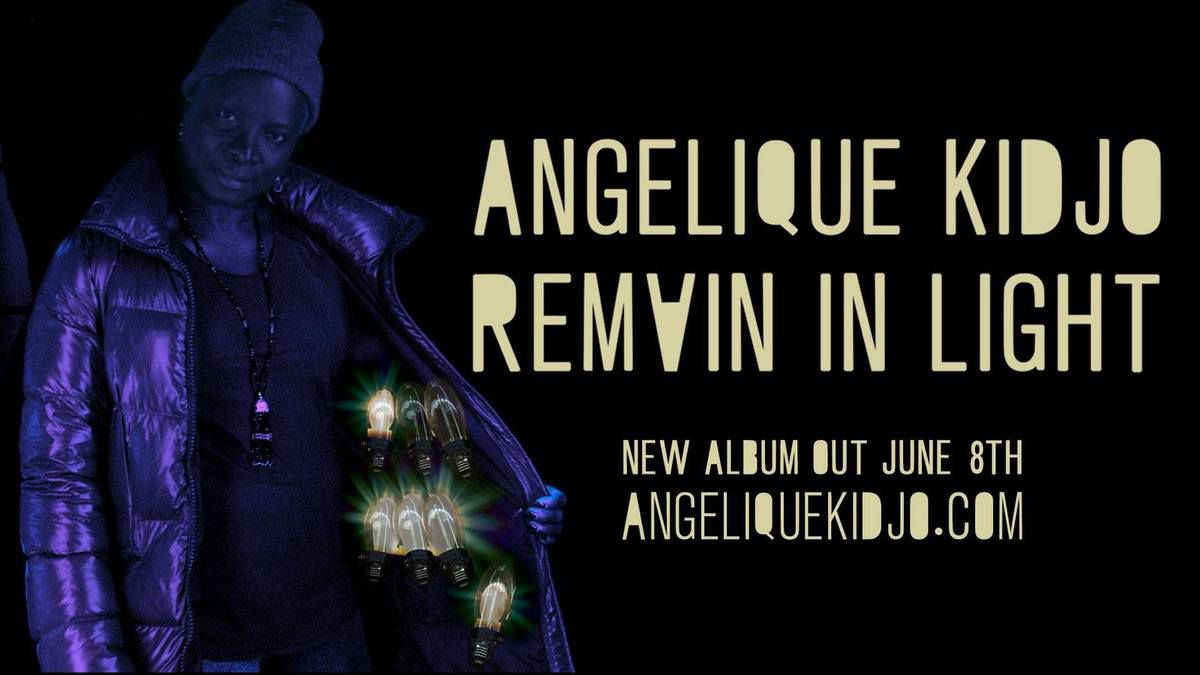 At age 23, when Angelique Kidjo left Benin for France, she was once again able to listen to all the rock bands she had discovered on the radio in the pre-communist regime. such as The Beatles and the Rolling Stones. In Paris, of all the music she loved, one record was particularly unique to her: Remain in Light by Talking Heads in 1980.
"I remember vividly every time the music came in, I said, 'There's something African to it,'"
Interestingly at the time, some of her peers at the jazz school she attended, would try to talk her out of it, not sparing condescending comments such as "This is not African. It's too sophisticated for you.' to which she would respond "OK, whatever you say.'" 'It might be rock & roll, but there's something African to it.'
Ok, maybe in the 80s, we didn't have such easy access to the web but anybody would know today that Angelique Kidjo was totally spot on.
In 1980, in his interview to the Rolling Stone, David Byrne, the lead singer and guitarist of Talking Heads explained "We wanted to develop an understanding of the African musical concept of interlocking, interdependent parts and rhythms that combine to make a coherent whole,". Drawing on the influence of Nigerian musician Fela Kuti, the group experimented with African polyrhythms, funk and electronics recording instrumental tracks as a series of looping grooves.
Almost 40 years later, Angelique Kidjo has now recorded her own interpretation of Remain in Light, which she has been performing Live at various concerts over the past year. The album, due out on the day of her performance at the Royal Festival Hall, South Bank Centre on Friday 8th June 2018 on Kravenworks Records, is a perfect counterpart to Talking Heads' record. With explosive percussion, bubbling horns, tribal harmonies and a multilingual approach. David Byrne, himself, has enthusiastically endorsed the project, skilfully directed by Jeff Bhasker.
"Music has always been my way to teach people on how connected we are and to try to find a common ground to build the bridge where we can walk together in respect of one another". And this album - Remain in Light is a pure demonstration of it and possibly the pinnacle of the artist's fusion and creativity, continually building bridges with others, musically and in her political activism. Angelique Kidjo is eternally African and yet in unison with the rest of the world. It is inspiring.
Angelique Kidjo's version of Remain in Light has a greater emphasis on rhythm and horns than the original, as well as instrumentation by members of her band, Fela Kuti drummer Tony Allen, bassist Pino Palladino, Vampire Weekend's Ezra Koenig, former Paul Simon's bassist Abe Laboriel, Sr., Blood Orange and others. Kidjo's powerful vocals, along with new vocals in African languages such as Fon respond to Byrne's lyrics. On "Crosseyed and Painless," she addresses the negative perception of Africa in the media; the mistreatment of Mother Earth on "The Great Curve," the after effects of slavery on "Listening Wind" and people's basic right to live on "Once in a Lifetime."
"The classic Talking Head Album came out right in the era of Reagan. It was a moment of anxiety and fear existed at that time, war on drugs, abuse of power, so for me it's just to reply to it because we've gone full circle and we are there again. I want music to tell us it's about time we fight, we have the power". True to herself, Angelique Kidjo always reminds us that « music is my weapon for peace ».
She would conclude her interview at Ace Theatre earlier on this month by saying "As an artist, how do I be the voice of the voiceless, how do I generate a platform for everyone to come together. I want people to come to the concert and have fun and listen, and to come out of the concert to feel energised to do things, I am passing you the light.. Be fully the human being that you are!"
And all in all, this remains Angelique Kidjo's message, especially to Africans. She wants them to write their own narrative and tell their own story, one that speaks of the beauty and the legacy of Africa, the mother of humanity.
To get your ticket now:
https://www.southbankcentre.co.uk/whats-on/126278-angelique-kidjo-sings-talking-heads-2018
Next Tour Dates
June 8 - London @ Royal Festival Hall
June 9 - Cardiff @ Wales Millenium Centre
July 11 – Arles, Fr @ Theatre Antique
July 26 – Vic-Fezensac, Fr @ Tempo Latino
July 28 – Katonah, NY @ Caramoor Center for Music and the Arts
August 6 – Highland Park, IL @ Ravinia
August 7 – Vienna, VA @ Wolf Trap
August 9 – Denver, CO @ Denver Botanic Gardens