exhibition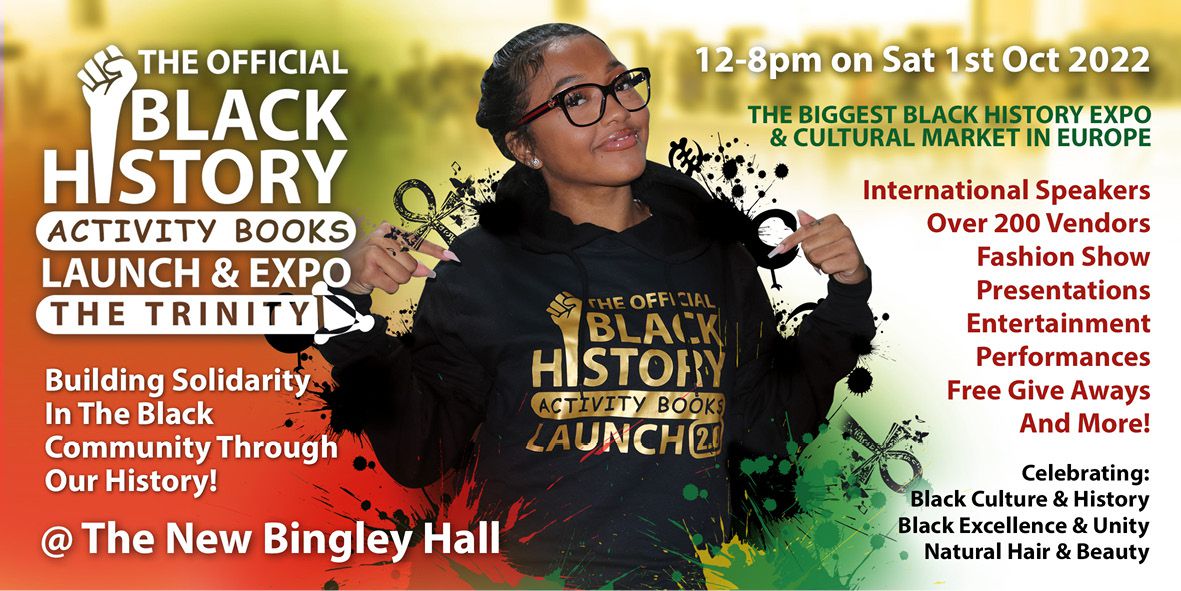 The Black History Activity Books Launch & Expo will take place on Saturday 1st October 2022 at The New Bingley Hall, Hockley, Birmingham, B18 5PP. With over 200 exhibitors, special guest speakers, fashion show, edutainment and live performances, The Black History Activity Books Launch & Expo is one of the biggest of its kind in Europe. It's a mega opportunity to celebrate Black excellence with like minded people.
Get your free tickets now by clicking the link below.
For sponsors and vendors info, email info@blackhistoryactivitybooks.com or contact 07896494056.
Black History Activity Book Launch 3.0 (The Trinity)
Saturday 1st October 2022 From 12-8pm At: The new Bingley Hall The Black History Activity Books Launch & Expo on Saturday 1st October 2022 at The New Bingley Hall, Hockley, Birmingham, B18 5PP Come
https://blackhistoryactivitybooks.com/event/black-history-activity-books-the-trinity-2022/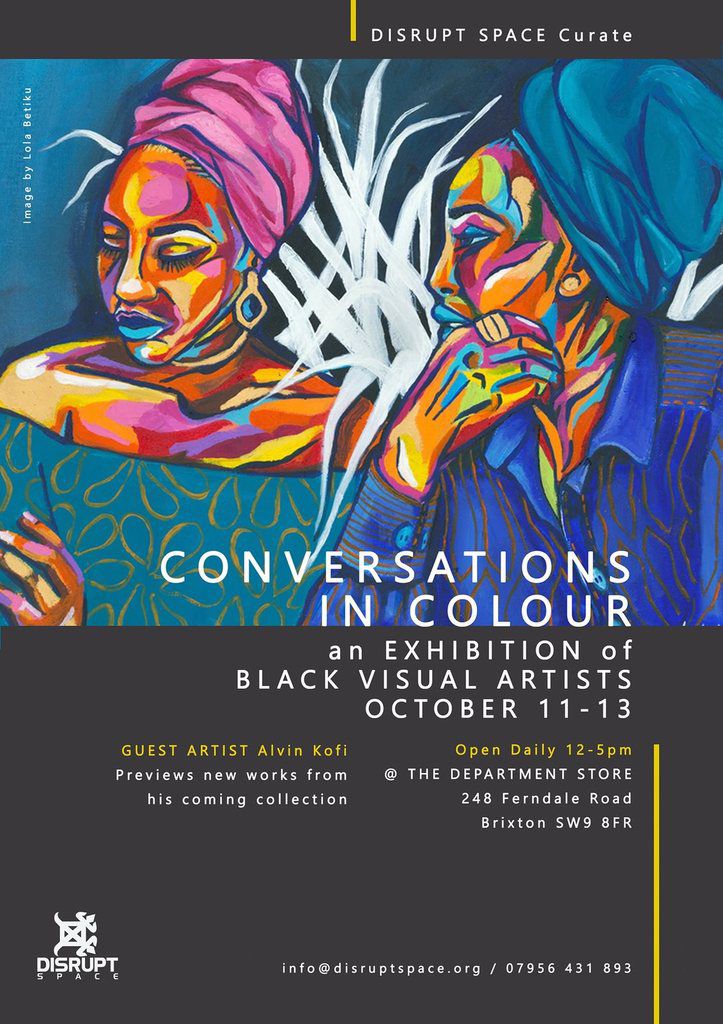 Disrupt Space is a visual arts agency established to nurture and represent emerging Black visual artists. The company will recruit artists to accelerate their progression and build a platform for the future.
The new venture begins with a display of works of art called CONVERSATIONS IN COLOUR that can be seen at The Department Store in Brixton (from 11th - 13th of October, 12 - 5pm). Here, artists Lola Betiku, Marlon Stewart, Sharon Adebisi and Gus Brooks-Simpson take centre stage to unveil their work; some of which has been prepared just for the show.
To mark the occasion, Disrupt Space has invited one of our leading Black visual artist, Alvin Kofi of Kofi Arts to contribute to the programme. On Sunday 13th October (2 - 4pm) Kofi will present and preview work from his forthcoming coming collection entitled 'Figures in a Landscape'.
Contact details and social below:
#BlackArtDisrupts
e. preid@disruptspace.org
t. @disruptspace
f. disruptspacehq
w. disruptspace.org

Eventbrite - Disrupt Space presents Conversations in Colour - Thursday, 10 October 2019 | Sunday, 13 October 2019 at The Department Store. Find event and ticket information.
https://www.eventbrite.co.uk/e/conversations-in-colour-tickets-74478327683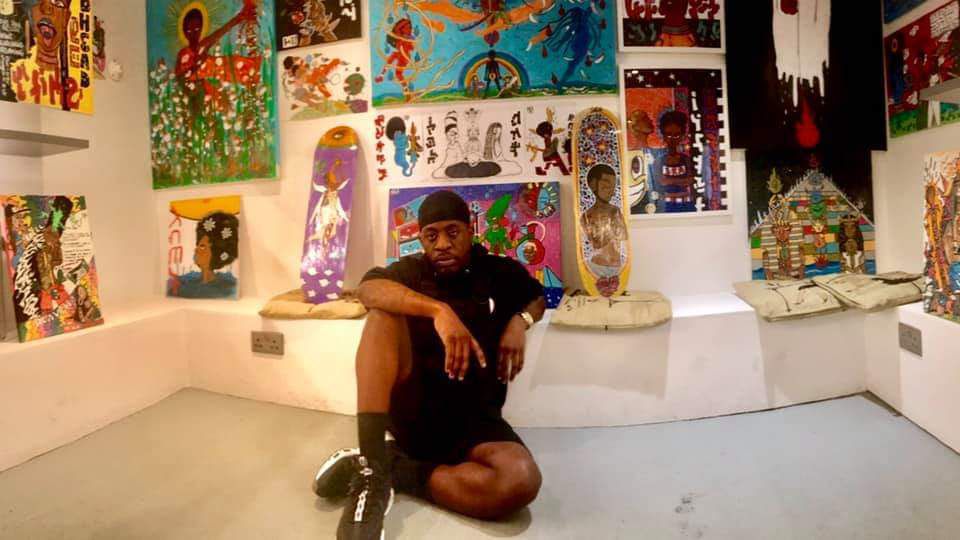 Visiting Gus of Ba Khem Arts this week in Shoreditch was a real highpoint for me. This talented young Brother really had me thinking. I arrived with no expectations really, just open I suppose to see what the Brother has going on but I left lifted and thinking how fortunate I was to catch this on the last day of his exhibition.
The style of work reminded me of the kind of art you'd see on the front of some iconic album covers from back in the day. A whole bunch of references came flooding back; all brought to life by the explanation from the artist, who fluently talked though each and every piece with a passion.
You could miss this work with a glance but pause for a moment and join the dots up and you'll see there's a lot going on here.
As Gus goes about the business of applying thought to canvas, I got an overwhelming sense that he's channeling. The lived experiences of personal relationships finds a way to be heard through references to ancient traditions, contemporary society and future visioning. Every piece is conceptual with a suggestion of cultural download.
I was left thinking... Wow! what a wealth of potential and creativity in our community. We really must find ways for this to grow and prosper.
Review of Ba Khem Arts by Paul Reid
See a selection of Ba Khem Arts work below and his website!!