marvinzouk
We were delighted to meet Marvin, an accomplished artist who incidentally grew a passion for Zouk music, a hugely popular Caribbean sound from Guadeloupe and Martinique, for close to two decades now and made it his own. Over his 16 years career span, he had the opportunity to tour the world and collaborate with many international artists such as Priscilla, Phylissia Ross from Haiti and Yasmine from Portugal. If you have ever listened or danced to Zouk music, then you are familiar with Marvin's music. That's how popular he is.
However, it's with great humility and simplicity that he converses in the lobby of his hotel in Farringdon on Sunday 2nd July whilst talking to two Caribbean bloggers asking him a wide range of questions on Zouk music. His manager is equally as humble. That night, Marvin will be performing at a Zouk Love event in a nearby venue called The Piano Works amongst the London Caribbean community. It's a huge night for the London Caribbean community since it is the first time in over 10 years that Marvin will perform in London and he is eager to reconnect with his fanbase and public over here.
Marvin has got a very interesting background. It was really interesting for us to discover that he actually is of mixed heritage, his dad being Ivorian and his mother from Brittany, France; which means that unlike most Zouk artists, he is not of Caribbean descent. Yet, from the day Marvin toured for the very first time in the French West Indies in 2006, he was warmly welcome and his music appreciated by all. His first album was called "Corps et Âme" which means Body and Soul. Followed 4 albums and hits, one of the most recent being 'Je serais là', in 2018 with Yasmine. Click below to watch the clip.
However, for the last couple of years, Marvin took some time out during the lockdown, spending time with his loved ones and recharging for what is to come. In 2022, Marvin resumed touring and is back in the studio working on some fresh sounds and diverse collaborations. From the Pacific Ocean, the Indian Sea across to the Atlantic and the Channel for those of us in the UK, Marvin tirelessly shares his passion of music, gives love and receive it from his fanbase all over the world.
So without further ado, make sure to check Marvin's music on all different platforms.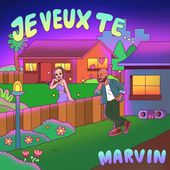 Nouvelle sortie le 20 août 2021